Quick drying, corrosion resistant ZINC RICH spray paint with 99.9% zinc purity in grey matt finish. Com-Paint Zinc Sprays for touch up on hot and cold Galvanised surfaces are formulated using metallic zinc flakes to give anti-corrosive protection on the substrate. Salt Spray Test passes more than 500 hours.
The film formulation is 99.9 % pure zinc of 20 microns thus giving an added advantage of creating a barrier effect resulting in a significantly reduced permeability to corrosive agents. Other application is to cover black spots, white water marks, flux affected welded areas.
Also available Zinc Bright, Zinc Silver and Zinc Black, all shade-matched to the customer's requirements.
Hot and Cold galvanized surfaces
Maintenance of Lamp post
Communication and Power Towers
Railways Signals
Steel structures and Bridges
Wherever galvanizing needs immediate repair or iron or bare steel needs protection.
igh Performance in 1K System
Made and processed in our own Research & Development Lab
Made and processed in our own Research & Development Lab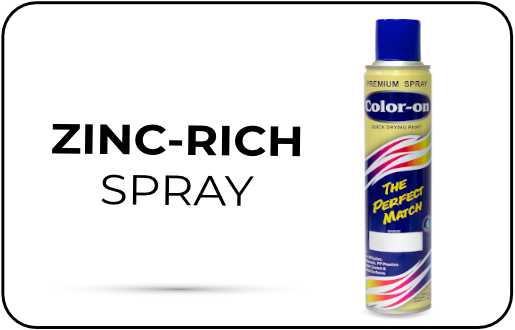 Available in pack size of 300 gms. (equivalent to 440 ml) and 120 gms. (equivalent to 180 ml).