Acrylic base paint is one of the best options superseding the NC-based products in terms of quality, colour, permanence, viscosity, and drying time. Having confronted different issues in NC paints, Com-Paint upgraded the production techniques of Aerosol Paints by canning acrylic base paints to provide its customers with superior graded product. Acrylic base paint gives corrosion resistance and UV life up to 300 hrs. Once sprayed, it gives an even and flexible film formation with film thickness that ranges from 15 to 20 microns.
All metal as well as other painted surfaces including plastics where touch up is required.
High Performance Acrylic Base Paint
Made and processed in our own Research & Development Lab
Product supremacy is an out come of our proven 33 years experience within the industry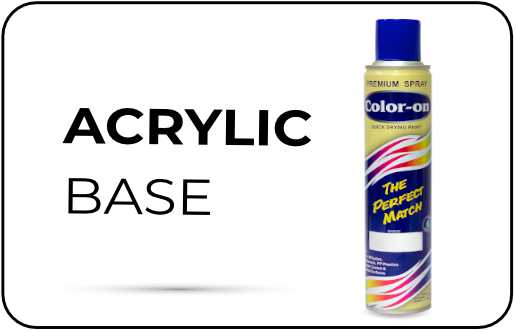 Available in pack size of 300 gms. (equivalent to 440 ml) and 120 gms. (equivalent to 180 ml).