Air drying Heat Resistant Spray Paint by Com-Paint is based upon the special formulation of heat resistant pigments blended into premium quality silicone polymer resin. It provides durable protection after the touch up has been done.
Color-on is one of the prominent manufactures and suppliers of supreme quality Heat Resistant (HR) paints in India. Employing the latest processing techniques, the company manufacturers its products in its state-of-the-art processing units while making use of the premium quality chemical compounds which it sources from the most renowned vendors within the industry.
Available in matt black and silver shades sustaining temperatures ranging from 250 degree and up to 600 degrees. The gloss level remains between 1 and 5 or as per the client's sample. With high performance heat resistance pigments (Lead and Chrome Free), the theoretical coverage per Can in 300 gms. Pack is 1.5 – 1.8 Sq. M.
High temperature automotive engines, exhaust manifolds and mufflers, etc.
Boilers, chimneys, lamp shades and heat generating painted parts.
Made and processed in our own Research & Development Lab
Product supremacy is an out come of our proven 33 years experience within the industry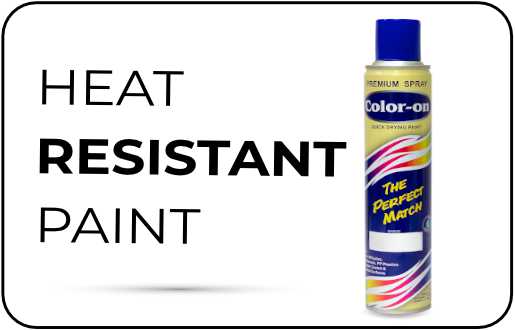 Available in pack size of 300 gms. (equivalent to 440 ml) and 120 gms. (equivalent to 180 ml).